Window Depot Upstate, the premier provider of top-notch home improvement solutions, recently completed a remarkable window replacement in Lexington, SC. Our valued clients, Mr. and Mrs. Braun, were determined to bid farewell to their old, outdated windows, which had become a source of discomfort. The draftiness of the windows made their home excessively cold during winter and unbearably hot in the summer. Fed up with these challenges, the Brauns decided to entrust Window Depot Upstate SC with the task of rejuvenating their living space. Eager to assist, we promptly dispatched a highly skilled technician to assess the project requirements and provide a comprehensive estimate. Once the Brauns agreed to the proposed price, our expert installation team was swiftly deployed to their home, prepared to deliver exceptional results. The meticulous window replacement process involved the removal of a total of 15 windows, including the trim surrounding them. Our team then proceeded to install brand-new Wincore 5400 white vinyl double pane windows, specifically chosen for their outstanding energy efficiency. These state-of-the-art windows are designed to effectively insulate the interior of the Brauns' home, ensuring that external weather conditions no longer intrude upon their comfort.
To complete the window replacement in Lexington, SC, we also installed fresh trim around each window, enhancing both the aesthetic appeal and functionality of the replacements. Our unwavering commitment to customer satisfaction demanded that we leave no detail unattended, so our dedicated team performed a thorough clean-up of the job site, ensuring that the Brauns could fully enjoy their newly upgraded living environment. The Brauns were overjoyed with the impeccable workmanship and results achieved by Window Depot Upstate. Not only did we address their concerns regarding draftiness and temperature control, but we also took the time to answer any questions they had about their new windows, providing them with the peace of mind they deserved.
At Window Depot Upstate, we take immense pride in our ability to deliver unparalleled service and exceptional products to our valued clients. The successful window replacement project in Lexington, SC is a testament to our unwavering commitment to excellence. As we continue to elevate homes across the Upstate region, we look forward to transforming the lives of many more satisfied customers, one window at a time.
Window Replacement in Lexington, SC Project Description:
Removal of Old Windows
Removal of Old Trim
Installation of New Wincore 5400 White Vinyl Double Pane Windows
Installation of New Trim
Full Clean Up and Project Approval from Homeowners Before Final Payment
"We're very happy with the windows, they look nice! Window Depot is really good with follow up questions or concerns!"
-Mr. Braun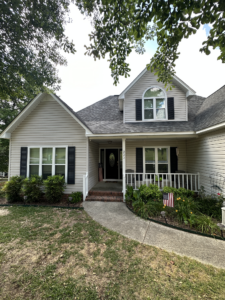 ---
Window Depot of Upstate, SC has been serving homeowners for 20+ years. Our partnership with one of the nation's largest home improvement networks provides us with significant buying power, allowing us to pass along tremendous savings to our customers without sacrificing quality. GET A FREE ESTIMATE on replacing your Window Today.